Your gift will help us continue serving the children of our community
Help us leap into our next decade of purposeful play by giving today. Your donation helps us serve more children, achieve more growth, and host new events and opportunities
SUPPORT KIDZU CHILDREN'S MUSEUM
You Can Support Kidzu In Many Different Ways!
Since 2006, Kidzu Children's Museum has nurtured the creativity and confidence of thousands of area children. Kidzu Children's Museum is a hands-on museum dedicated to inspiring young children and the adults in their lives to learn through creative play. We are planning to expand to a much larger site in the next few years.
We need your help to continue to serve all the families in our area!
Give Our Community a Free Day of Play!
Day of Play Sponsorship
Kidzu Children's Museum invites you to make an investment in the children and families of our community by joining the museum's Business Stewardship Committee and sponsoring a monthly Sunday Free Day of Play!
Business Stewardship Committee
Join the Business Stewardship Committee this December and receive one transferable 4-person museum membership. Help us reach our goal of one Sunday Free Day of Play sponsored before year-end!
Exhibit Sponsorship
Kidzu's Children's Museum provides innovative exhibits and programs focused on STEM, health and wellness, art education, and emerging literacy. Since opening in its latest location in University Place mall, Chapel Hill, NC in April 2015, Kidzu has served over 90,000 visitors and thousands more through community events and outreach. Sponsorships can be made for 1-year or up to 3-years.
Corporate Memberships
Kidzu Corporate Members receive donor recognition, exclusive employee benefits, and more. Partnering with Kidzu will open doors to increased brand recognition, public relations and employee volunteerism. Support for Kidzu is a direct investment in critical early learning, fostering 21st century skills necessary for success in the adult world.
Kidzu Children's Museum
201 S. Estes Drive (University Place)
Suite A9
Chapel Hill, NC 27514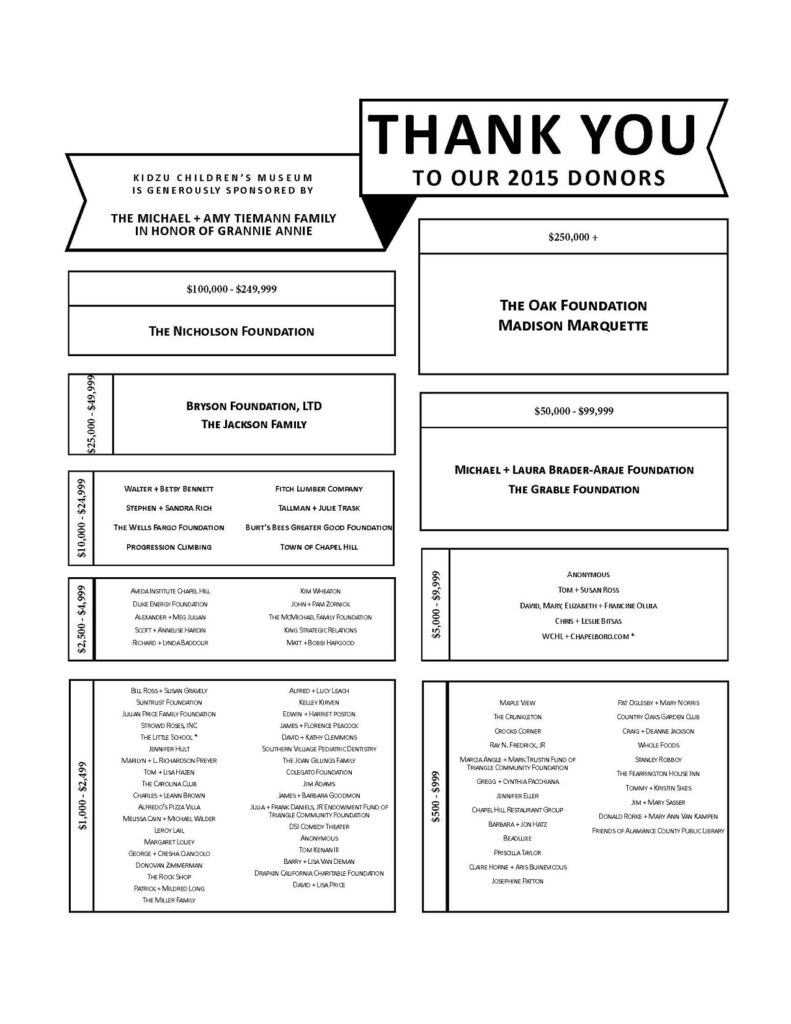 Children from infants to tweens engage in imaginative,
open-ended play experiences combined with learning objectives
What a great time! We took our granddaughters here. Both of them had a great time. They were wore out by the time we left. We will go back in the near future, when we catch our breath.
They pack a lot of fun into a small space. They have a nice array of different exhibits with a tree house, theater space, kitchen, reading nook, makery, etc. My 5 year old son loved it.
I went with my 7 & 6 year old cousins because it was a rainy day and once we entered they did not want to leave! There are tons of activities for children to do and lots of imaginative play. It was clean and had a lovely staff.